Beaches and Movable Floors
Edinburgh Designs have designed and installed many beaches to absorb the waves generated by our wave machines.
Beach design is complex and must be taken into account from tank conception. Edinburgh Designs has built many successful beaches over the years and understand a great deal about how to design beaches to the users requirements.
There are two main types of beaches that we can provide:
A sloped beach for fixed water depth constructed from a steel structur

e with a decking.

A mesh style beach for a variable water depth application, where we use a mesh within a steel grid frame to absorb the waves.
Each customers' tank is unique so Edinburgh Designs' beaches are designed to meet the clients' exact dimensions, specification and budget.
Movable floors
Edinburgh Designs have designed raiseable floors for the leisure industry and modified the design for wave basins.  Edinburgh Designs have designed both floors which use buoyancy with cables and hydraulically driven jacks.
Examples of movable floors we have installed include:
University College Cork Beaufort Building: Hydraulic Movable Floor
Plymouth University Ocean Basin: Hydraulic Movable Floor                (35 x 15m)
Edinburgh University FlowWave TT: Circular Raisable Platform
East Midlands International swimming pool : Two moving floors      (18 x 13m and 18 x 9m)
Lanark Swimming pool: moving floor 13 x 9m
User Interface
Floors can be controlled by an HMI and failsafe PLC or by the operators computer.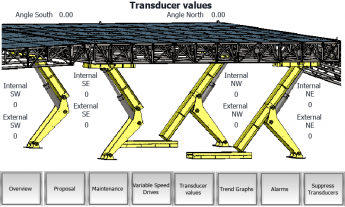 Sensors are built into the floor and moving mechanism to ensure that it remains in the position specified by the user.